Rejected titles for this post may include but are not limited to...
Blah-to-Bling! (say if fast and it sounds like "bada bing!")
Bling it On! (too obvious)
The Big Bang Bling! (makes no sense... catchy, though.)
So, for your viewing pleasure, the POC team will be bringing you all things bling this week. Stacey and I will be your hosts for our blingy good time, and we hope you enjoy.
Before we get started with all the blingyness... let me just say that me and bling... bling and I... we've had a love/hate relationship over the years. I find it somewhat ironic that I am hosting our little blingfest and yet it pains me to put more than one layer on a card, much less bling!
Don't get me wrong... I'm not hatin' on the bling. Far from it. I acknowledge and embrace the fact that super-fine glitter and self-adhesive rhinestones are possibly the greatest inventions since sliced bread and Velcro rollers. It's just that I've been scarred by bling.
I now enter, for the record, Exhibit A...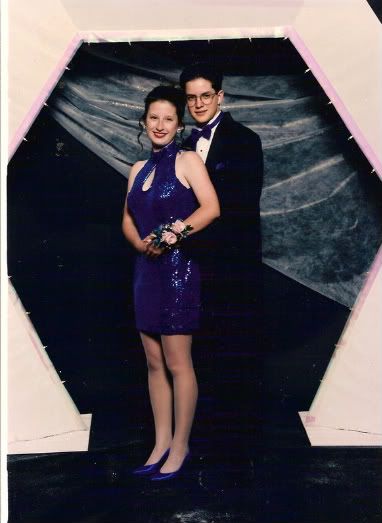 Don't judge me. I know it was wrong. I have asked for forgiveness from the gods of fashion. All I can say is... it was 1994. I was a freshman in high school and apparently did not know any better. And, if you must know, yes, the shoes were dyed to match. It is literally *painful* to look at, isn't it?
It is this picture that cautions me in my use of bling. Bling in the hands of others... brilliant. It is clear that I cannot be trusted with it. And so, my friends, my use of bling may be sparing and deliberate, but know that it is used with love from a chick who once nearly drowned in blue sequins.
I will leave it up to my fellow POC'ers to bring you the truly blingful, the blingiest of the bling, the bling that leaves all other blings jealous. I'm sure you will find their use of bling to be fabulous and inspiring. There is not a blue sequined mistake in the bunch!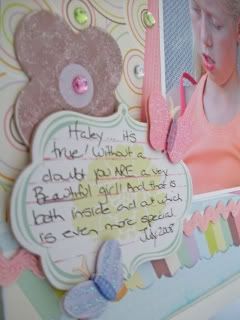 Beautiful layout
By: Julia Sandvoss
Ki Memories Hopeful papers, chipboard flowers
Doodlebug "Beautiful" sticker
Autumn Leaves Chipboard Journaling Accent
K & Company Butterflies
Pink Stickles
Pink Cotton rick rack
Doodlebug Jewels
Assorted Rhinestones
Martha Stewart "Cornice Edge" Border Punch and Journaling Pen
Colorbox Chalk Inks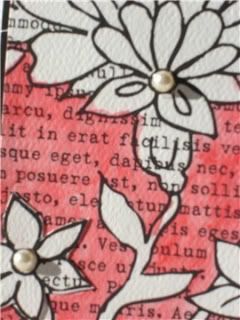 White/Pearl Flowers Card
by
Linda Beeson
Solid cardstock Patterned paper – Paintables/Prima and Collage
Watercolor Crayons
Watercolor Brush
Self Adhesive pearls – Mark Richards, Inc
*Technique note - Linda painted the background only of the Prima Paintables and left the flowers white as they are on the original paper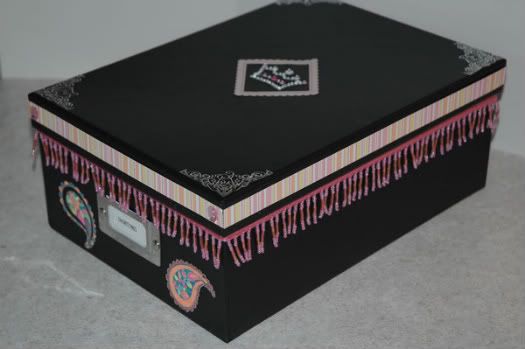 Favorite Finds Box
by
Stacey Stamitoles
Stickers: Magenta Style (Paisley silver) and March Richards Peel offs (silver corners)
Box: Hobby Lobby photo box
Pens: Sakura Gelly Roll (to color in the stickers)
Paper: Making Memories
Crown: MMBI
Pink Gems: EK Success
Beaded Trim: Style-a-bility
Get Well Soon card
by
Jessica Witty
Stamps: Polka Dot Basics & Faux Ribbon (Papertrey Ink)
Hybrid Ink: Summer Sunrise & Berry Sorbet (Papertrey Ink)
Cardstock: Kraft & White (Papertrey Ink)
Ribbon (Papertrey Ink)
Dazzling Diamonds glitter (Stampin' Up)
Glue Pen (Sakura)
As a final note, my husband would like me to enter, for the record as well, that no, he was not my date to the prom. And while I'm noting things for the record, let me go ahead and state that yes, I have much better taste in clothing now. Recently, I even purchased
an article of clothing that has sequins on it
. I have worn it once and did not feel like a complete fool. Progress, my friends... progress.
Stacey will be bringing on the bling this Wednesday. I'll catch you again Friday!
Later!
Jessica